Multinationals expect to unlock new opportunities in Chinese market through Hainan expo
Release time: 2023-04-28 11:00 Source: Chinadaily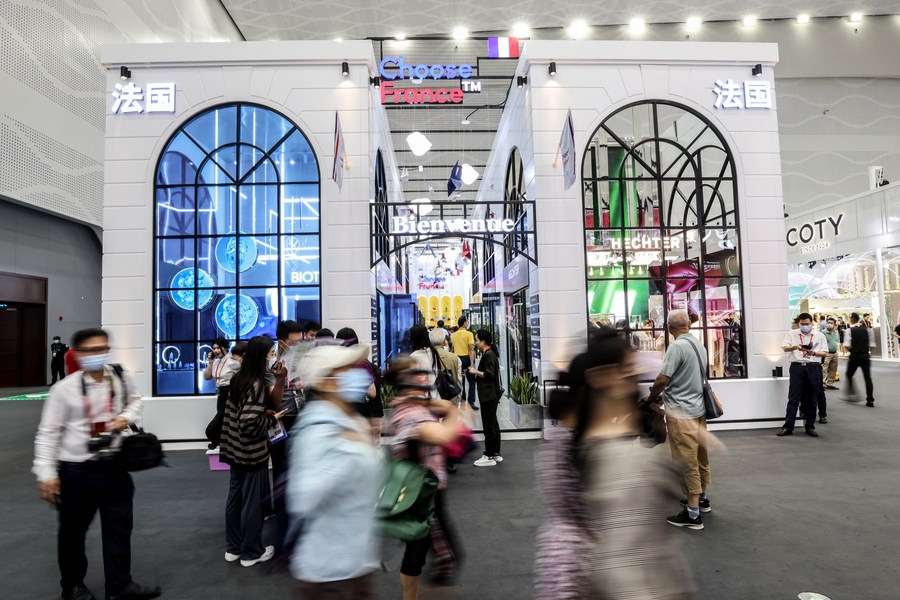 This photo taken on April 13, 2023 shows the French national pavilion at the third China International Consumer Products Expo in Haikou, South China's Hainan province. [Photo/Xinhua]
BEIJING -- For Stefania Lazzaroni, general manager of Italy's luxury brands committee Altagamma, the third Hainan expo presents "an amazing opportunity, and we really want to have the occasion to illustrate and tell the story of the amazing beauty of our brands."
As part of China's campaign to bolster consumption, the event, officially known as the China International Consumer Products Expo, held from Monday to Saturday in Haikou in South China's Hainan province, has attracted over 3,100 brands from 65 countries and regions.
Numerous exhibitors aspire to opportunities brought by the expo, not merely to capture a greater share in the Chinese market, but also to catalyze their own product innovation and gain more steam for their recovery from the repercussions of the COVID-19 pandemic and other uncertainties.
Business opportunities
"When Altagamma invited us, we immediately said yes," said Violante Avogadro, chief communications officer of Illycaffe, a well-known Italian coffee producer. "We really want the Chinese people to discover the brand and appreciate it ... The expo is a perfect place for us."
Apart from Illy, 147 brands from Italy -- the guest country of honor at this year's expo, such as high-end fashion house Gucci and luxury vehicle manufacturer Lamborghini, are participating in the event.
"The Chinese market is really relevant," Lazzaroni said. "It's tremendously important for our brands to develop an even stronger relationship with China. It's always been the case."
From January to February, China's retail sales of consumer goods climbed 3.5 percent year on year, official data showed, indicating a rapid rebound in consumer expectations and steady resumption of off-line services.
Given the rosy prospects of China's consumer market and its commitment to higher-level opening-up, multinationals from across the globe are racing to expand their business in China through the fair.
The 2023 version saw the participation of a Polish delegation for the very first time. In the eyes of Jacek Boczek, vice president of the Polish Chinese Business Council, the Polish business community ought to intensify its endeavors to leverage the vast opportunities and potential present in the Chinese market.
"We should export to China much, much more, because we have many products of a very good quality," he said.
Since China in 2020 released a plan to build Hainan into a globally influential and high-level free trade port, a portfolio of favorable policies has been implemented in the island province, including zero tariffs and easing market and foreign investment access.
A total of 52 companies that had participated in the previous expos became investors in the Hainan Free Trade Port, said Tulenov Ruslan, a global media officer of the Hainan Provincial Bureau of International Economic Development.
Tapestry, Inc, a New York-based company in possession of such famous brands as Coach, Kate Spade and Stuart Weitzman, decided to base its China travel retail headquarters in Haikou in 2022 after participating in the first CICPE. Thus far it has opened nine duty-free stores and four retail stores in Hainan.
"The expo is an important window for global high-end brands to accelerate their entry into and expansion in the Chinese market. It has also created new opportunities to boost the development of the global market," said Charlie Hou, senior director of travel retail at Tapestry (Hainan) Group Co Ltd.
Innovation catalyst
In the past four decades or so, the Chinese consumer market has undergone a substantial change from focusing on simple and basic goods in the 1970s, and then becoming exposed to world fashion in the 1990s, to setting trends for global fashion and style today, Stephen Perry, chair of the 48 Group Club, observed.
Indeed, China has emerged as a trendsetter in industry and product development, as seen in the Hainan expo where more than 1,000 products from more than 300 brands are expected to make their debut.
Among the exhibitors that have taken part for three consecutive years is US beauty titan Estee Lauder, which inaugurated its China travel retail headquarters in Hainan in January 2023 right after unveiling its China Innovation Labs in Shanghai in December 2022. The labs will be the largest cutting-edge technology research center in Estee Lauder's international market by 2025 as planned.
Fabrizio Freda, CEO of Estee Lauder, said that his group, with high confidence in the Chinese market and an awareness of the importance of Hainan's offshore duty-free market, is looking forward to establishing higher quality cooperation in duty-free shopping, medical care, and talent training, and to introducing new and quality products to more consumers.
The 2023 CICPE highlights such hot topics as green development, healthy consumption, smart life, and new fashion, which are equally the main directions for the exhibitors to foster their product innovation.
On the sidelines of the event, Alfred Xu, CEO of Rhea Vendors Group China, told Xinhua that the Chinese consumer market is shifting towards higher quality, smarter, and more environmentally friendly products, a change that is driving technology and product innovation around the world. Rhea Vendors from Italy is a world-leading producer of customized vending machines.
To meet the demand of Chinese consumers who are embracing a paperless life, Rhea's coffee vending machine products have adopted e-payment options such as UnionPay, digital RMB, Alipay, and WeChat Pay. This allows for quick and easy scan-to-pay transactions, resulting in a more intelligent and convenient experience for consumers, Xu said.
"The requirements of the Chinese market are developing," thereby opening the door to innovation and technology development, not only in China but also beyond its borders, since "everyone realizes that China welcomes any partner working with it inside or outside the Chinese market," Abu Bakr al-Deeb, advisor to the Cairo-based Arab Center for Research and Studies, told Xinhua.
Recovery momentum
During the ongoing expo, several international advisory institutions, including Boston Consulting Group, Deloitte and PwC, issued reports detailing their optimism about the recovery prospects of Chinese consumption.
In its report, Deloitte noted the pace of recovery in China's consumer market is accelerating, and growing household incomes will continue powering its growth.
From the perspective of the Chinese economy as a whole, its sound recovery is expected to renew impetus for global economic growth. Both the World Bank and the International Monetary Fund have revised their projections for China's economic growth in 2023 to above 5 percent.
In light of the size of the Chinese economy, that would be a key contributor to global growth in the coming year, said Pierre-Olivier Gourinchas, director of the Research Department of the IMF.
Therefore, analysts construe the Hainan expo -- the first large-scale international expo held after China optimized its pandemic response -- as part of the country's endeavor to help advance global growth and revive international trade.
"The increase in China's domestic demand is a favorable scenario for the world's economies, including Argentina's," Fernando Fazzolari, an Argentine economist and businessman, said, adding the expo "is very important because we have been through some difficult years in terms of international trade due to the aftermath of the pandemic."
Wilson Lee Flores, a columnist for The Philippine Star, said the event is "very welcome news for the economic activity and economic growth of China and the whole Asia region," which "will promote the vitality and dynamic of the economy of China and Asian countries."
"This will help both consumers and different companies in the world because China is the second largest economy in the world. It has a positive impact on Asian economic growth and on the world economic outlook," he added.